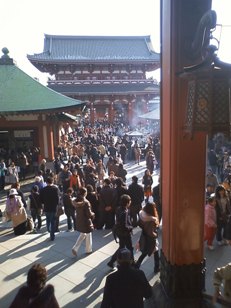 Asakusa - A retrospective district Like No Other in Tokyo
Asakusa is the center of Tokyo's old downtown. The retrospective streets relate to the time when Tokyo was once called Edo in the 17th century. Time has stopped here since the Edo period, which is reflected by the numerous stores in Asakusa. Tokyo has been Japan's cultural center since the Edo period, and is a crossroads where history and tradition meet with cutting-edge innovation. And Asakusa play a role in an old-line. When you visit here, you will find that Asakusa is one of the most attractive and hottest place in Tokyo, once, now and forever.
Excellent design from the Edo
Our Kimono robes's design is greatly inspired by the Edo culture. Up until the Edo period, kimono was worn as everyday attire by both Japanese men and women. In the Edo period, a variety of Kimono design was created. This period was peace and prosperity, so they could be singularly absorbed in style and fashion. Excellent design created in the Edo period has kept fascinating modern people.
Asakusa's attractions
- Kaminarimon
The main gate to the Senso-ji Temple, Kaminarimon is an eight- pillared gate, painted vermillion with a unique architecture. Originally erected in 942 A.D., the present structure is a reconstruction built in 1960. Kaminarimon means thunder gate.
- Nakamise-Dori (Nakamise Street)
The temple entrance between Kaminari-mon and Senso-ji Temple is known as Nakamise Street. Lining along the street are approximately 90 shops famous for their sweets, Kimono, toys and crafts. Our real shop is located here.
- Sensoji Temple
From Kaminari-mon, Nakamise-Dori leads straight to Senso-ji. Senso- ji is the Tokyo's oldest temple. Known affectionately to people all over Japan as the Buddhist temple.
Check our blog
There are live Asakusa streams. http://en-kimono.tumblr.com/